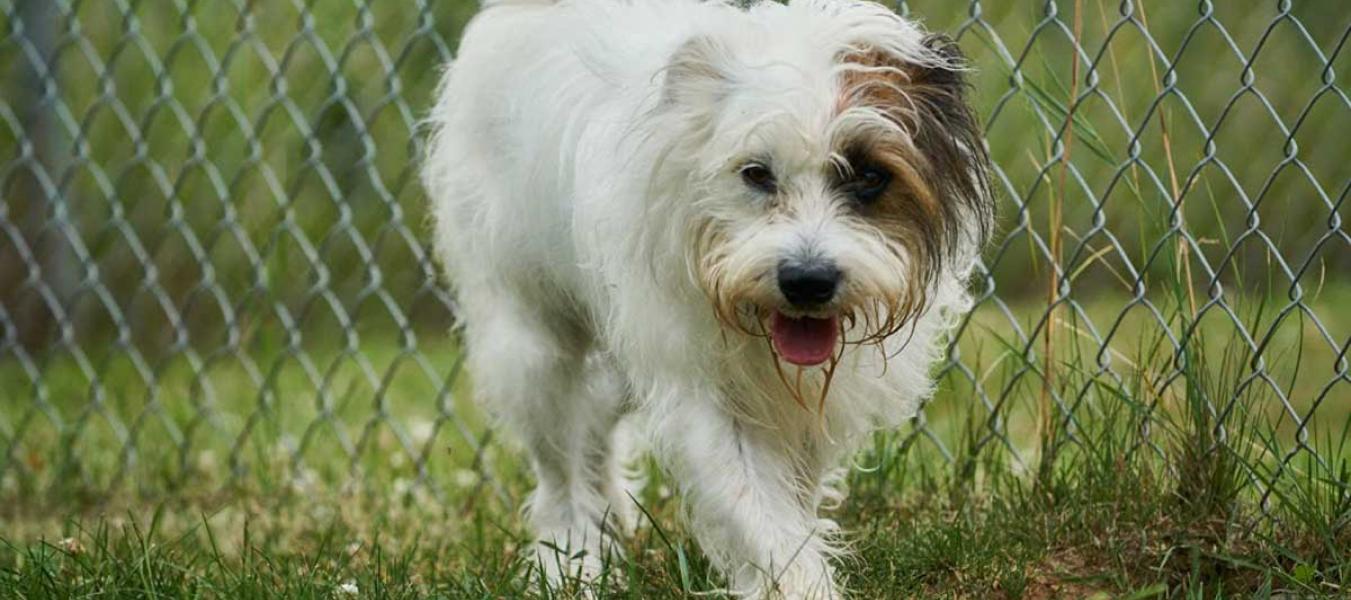 Patches, age 8, was surrendered by his owner of five years, who had adopted him from Homeward Bound, a foster based rescue in Minnesota. His case is typical of many animals who are surrendered to Home for Life.
Patches came to Minnesota over five years ago, from a shelter in Kentucky from which he had been adopted and then returned at age 3. At the time of his surrender to the Kentucky shelter, his fur had been dyed pink( pink?!). Patches is a male dog, so no one could figure out why he was dyed pink, and fortunately the color washed out when the shelter staff gave him a shampoo.
He was identified as a PBGV/Glen of Imaal terrier mix. A PBGV( Petit Basset Griffon Vendeen)  is actually a wire haired Basset Hound and a Glen of Imaal resembles a Cairn Terrier. Patches has longer legs than either of these breeds, but the exotic description caught the eye of the Minnesota rescuers who had him transported north, to try his luck to find a new home.
With his captivating appearance, Patches soon found an adoptive home, and lived there with his owners along with a Shih Tzu female dog for five years. Home for Life received an email from the owners after Patches had a few incidents where he was aggressive and tried to bite guests to the home. The owners were concerned about keeping him because of the number of visitors they had at their house and the kids in the neighborhood who were around. Different Ideas were suggested to try to keep Patches with them, which they really wanted to do, but in the end, the couple didn't believe they could make it work with their circumstances. They had explored surrendering him to rescue for adoption but were told Patches was no longer a candidate for placement because of his demonstrated aggression. Patches' owner told us she found Home for Life in a google search and felt we were the only option besides putting him down because they couldn't keep him and another rescue was not available to him.
Now age 8, Patches has been a ward of a shelter twice, fostered and adopted out thru rescue, and been in at least two homes- that we know of.  Still healthy and active, he has many good years to live, but was without rescue options at the time his owners contacted Home for Life. 
We call dogs like Patches "the invisible animals" - circulated through rescue groups and shelters and homes multiple times:  no longer candidates for placement where the only option is adoption, so many of these animals end up having their lives quietly ended by euthanasia at a vet clinic or humane society. 
There are so many dogs and cats like Patches whom the shelter and rescue system has not been able to help, and who are at risk for euthanasia. Dogs and cats like Patches who have often been circulated through the rescue/shelter system multiple times,and for many reasons, have not been able to stay in their adoptive homes are the ones that no one in animal welfare wants to acknowledge - because to do so would reveal that the conventional solutions to animal homelessness may not "save them all." 
Patches' story - so typical of many dogs and cats turned in to shelters and animal controls, or brought to vets for euthanasia - demonstrates why the third door in animal welfare - care for life sanctuaries - is needed, if the lives of as many animals as possible are to be saved.
Patches has been such a good dog since coming to Home for Life, and has demonstrated none of the aggression that was a concern in his former home. He is best friends with a dog who is about his size, the paraplegic White, a street dog originally from a rescue in Thailand. Patches arrived at the sanctuary with all his toys and his happy to share them all in tug of war and chase games with White.
UPDATE
Patches has been such a good dog since coming to Home for Life® and has demonstrated none of the aggression that was a concern in his former home. He is a smart, loyal and curious boy and doesn't even mind sharing his toys with other dogs at Home for Life®. Patches arrived with an extensive toy collection. He suffers from a bit of arthritis in his back legs, and one has to wonder if some of the touchiness which led to the incidents in question occurred because of untreated soreness. Patches is now on a regiment of Previcox and gabapentin as well as glucosamine/chondroitin and MSM chews and doesn't give his stiff legs a second thought any longer.
Patches lives peacefully with our "black dog " group: Makwa, Peter, Zee, and Ace and rounded out by the sweet 3-legged blind St Bernard Gracie. With typical terrier moxie, Patches holds his own and enjoys the active play with these gentle, larger dogs. Below is a recent video of Patches in action playing with his friends in one of our off-leash meadows.

To sponsor Patches, please click on one of the buttons below.