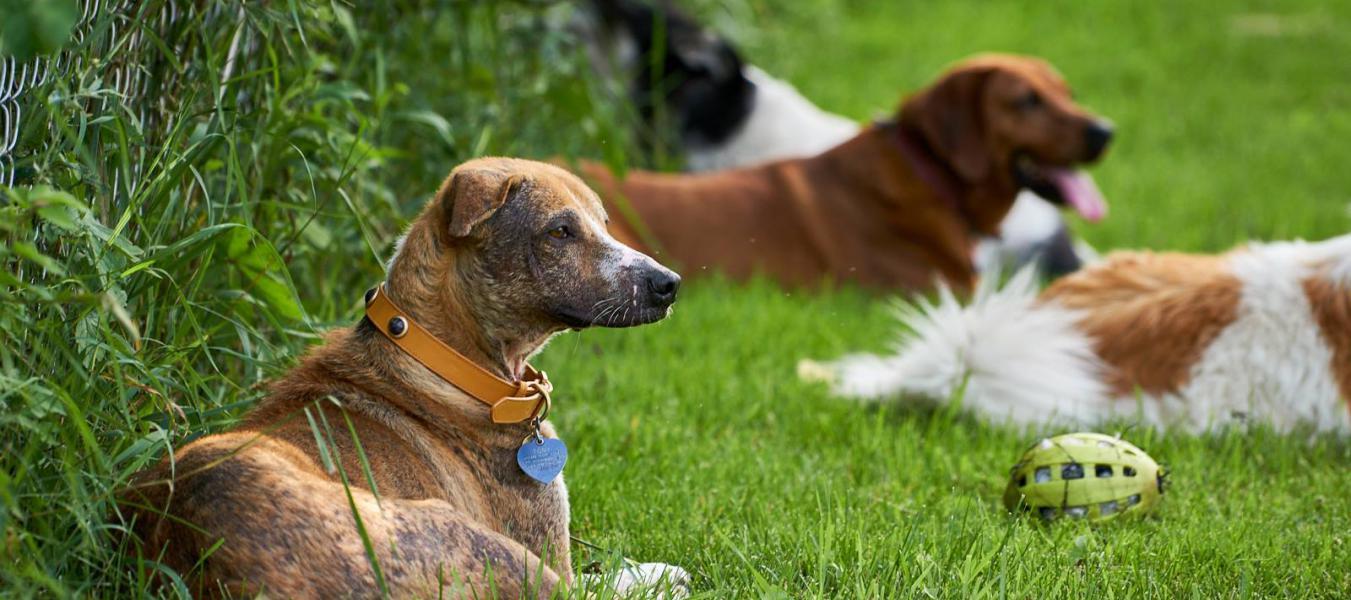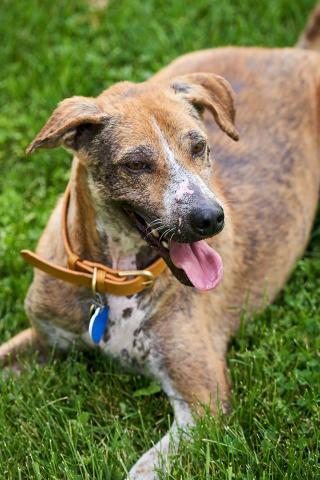 Tony is a "desi" dog, believed to be a mix of sight hound and retriever, a dog born on the streets in New Delhi India. He suffered such severe malnutrition as a puppy that rickets left his front legs terribly twisted and deformed. In addition, as a result of his tough start in life, Tony has an autoimmune skin condition, not contagious, known as pemphigus: (https://en.wikipedia.org/wiki/Pemphigus_foliaceus) which caused further disfigurement. Dr. Premlata Choudhary, a veterinarian in New Delhi, described how she rescued Tony from certain death when he was only a puppy: "When I rescued him as a puppy, he was lying in the garbage dump and we could count his ribs and bones. I tried so many times to find a home for him, but no one came forward to adopt this sweet boy. I sent him to Happy Paws boarding, a kennel in New Dehli 2 years back when no one was even ready to foster him, and although it was expensive, they looked after him so well."
In 2017, Home for Life® received an inquiry from a friend of ours and Dr. Choudhary's, Isobel, who is British but who now makes her home in India, and does all she can to help the neglected dogs in that country. Isobel brought Tony's case to our attention and asked if we could help. Wrote Isobel: "We have a dog at Happy Paws that has been resident for over 2 years now that we have tried to rehome but with no success. His name is Tony and he is a sweet boy but suffers from a skin condition which we believe to be genetic and both his front feet are deformed but he can get about. He has a lovely nature and several times we have put him forward for adoption but sadly he has never been chosen. If you are interested I can send you more details and some pictures. Veterinarian Dr Choudhary, who rescued him, would sponsor his travel costs. Many thanks Isobel." Happy Paws is the shelter where Home for Life's® other street dog from India, paraplegic Hilly, was cared for before travelling to the United States and our sanctuary last spring. Read her story here: https://www.facebook.com/pg/homeforlifeorg/photos/?tab=album&album_id=1…  and read Why Home for Life® helps dogs internationally, as well as close to home: http://homeforlifesanctuary.blogspot.com/2016/01/home-for-lifes-interna…. You can read about Tony's journey to the United States and Home for Life® in his facebook album from our page here: https://www.facebook.com/pg/homeforlifeorg/photos/?tab=album&album_id=1….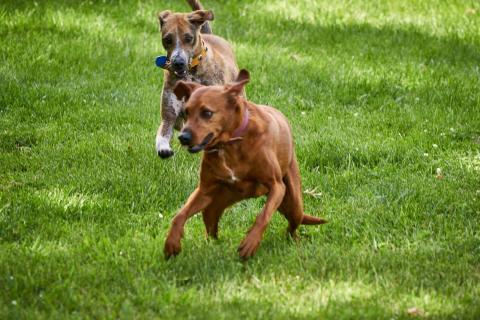 The internet has been a boon for animals looking for new homes and the rescues trying to place them  But for dogs like Tony, who don't have "the look" or even some disfigurement that might be perceived as unappealing, pictures on social media will never be able to convey all the special qualities that are contained in a plain wrapping of a brown dog. For two years, Tony waited and hoped that someone would see all that was in him, the grit that had helped him cling to life when he was abandoned on a pile of garbage as a puppy, the will to live that helped him fight to heal once was receiving adequate care, and the hope he clung to as he waited for a chance to have a home.
Although he will always bear the scars and disfigurement associated with the very hard circumstances as an unwanted street puppy, no one has more determination than Tony to embrace his new life at the sanctuary and the opportunity for happiness. He quickly made friends with a spirited group of active dogs and is a member of the "Spiderman"  group: Spider, Bullwinkle, Roo and Rory the Redbone Coonhound, who was tied to our front gate one cold November morning in 2014 and gave birth to 10 puppies the next day! He is close friends with Rory, who at age about 5, is closest to his age of the group of dogs.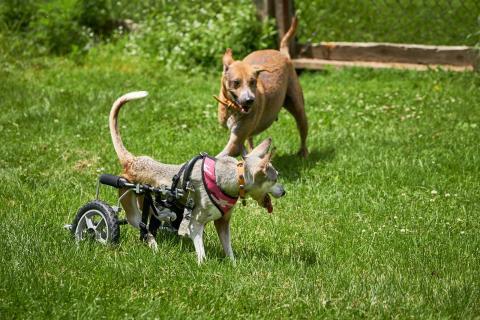 It's always so interesting to see that our dogs from countries thousands of miles away can still form bonds and find common ground with dogs at Home for Life® who are from local origins. Dogs and cats have a way of finding what they share rather than obsessing on their distinctions and, their willingness to co-exist in harmony is a quality many people could emulate.
Loving care and a place to belong: a home: that's what this former street dog has been searching for and travelled halfway across the globe to find at Home for Life® - for what is a home but the place who sees beyond the facade that the world sees - the dog contained in a plain brown wrapping with disfigurement that no one wanted -  to the treasure within? The optimistic, brave and hopeful soul that is Tony.
To sponsor Tony, please click on one of the buttons below.